Car Parks with Shuttle Service to Queenstown Airport
To secure the most affordable long term parking Queenstown Airport, it pays to book with a 'park and ride' car park. There is one off-site car park at Queenstown Airport at present that offers a complimentary shuttle Queenstown Airport that will take you to the terminals and back. We recommend this option for budget conscious travellers looking to park their vehicles for one day or more.
Airport park and ride services are easy to book and straightforward to use. Customers simply park their vehicle at the car park, check-in at the reception desk, and then take the complimentary shuttle bus to the airport. On their return, a shuttle bus will be sent to collect them, and take them back to their car.
Arrival: On the day of departure, simply drive to the address of the chosen car park. To enter the car park, you must tap your debit or credit card at the gate. No cash payments are accepted. Upon entering, find a designated space for your car park, and make your way towards the Queenstown Airport bus from the parking lot.
Return: On the day of return, after landing, head towards the shuttle bus drop-off location noted on your confirmation email. The shuttle bus runs every 40 minutes to and from the airport, starting at 5:20 a.m., with the final shuttle departing after the last plane has landed. Upon getting in your car, exit the car park by tapping the same card you used to enter the car park with.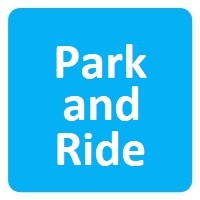 Park and Ride Queenstown ($90.00 for 1 week)
Queenstown Park and Ride is located off of Brookes Road, close to Queenstown Airport Terminals. This open-air park & ride facility is open from 5:20 am every day, or 100 minutes prior to the first flight taking off. The car park closes 60 minutes after the last flight has arrived and is great for those looking for long term parking Queenstown Airport or for the cheapest parking at Queenstown airport. While there is no online booking reservation system at present, with 267 parking spaces available, you are bound to find a spot upon arrival.
Hours: 24/7
Service: Shuttle
Distance to Airport: 15 minute shuttle
Height Restrictions: N/A
Parking at Queenstown Airport within Walking Distance to Terminals
You'll find the Terminal Car Park (A & B), P20 Express Parking, and P2 Drop-Off Zone all located close to the main airport building. Not only are these car parks convenient in terms of location, but affordably priced for both short and long-term parking atQueenstown airport. Unfortunately, you cannot get your space at any of the parking facilities listed below through the Flyparks website at this time, nor book your reservation online at the airport's website. Thus, you must pay upon arrival at the terminal car parks with cash, EFTPOS, or credit card.
Arrival: You simply drive to the car park. On arrival, take a ticket at the entry barrier. Hold on to this ticket as you will need it to pay upon your return to the car park. If you don't prefer the ticket system, you may also utilize the tap & go payment system at all terminal car parks. Simply tap your credit card at the entry barrier to enter the car park.
Return: As you return to the car park, insert your ticket into one of the three payment stations on the pathway towards the arrivals / departures hall. If you paid using the tap & go method upon your arrival at the car park, use that same credit card to tap as you exit. For charges greater than $200, you will need to enter your pin at the gate, and can therefore not utilize the tap & go method.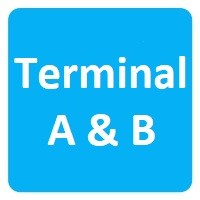 Terminal Car Park - A & B ($175.00 for 1 week)
The most affordable Queenstown airport parking fees can be found at Terminal Car Park - A & B for stays of a couple days. Queenstown Airport currently has two terminal car parks, A and B, both open - air car parks offering the same Queenstown airport parking rates.
Car park A is located right in front of the terminal, has both express and drop-off zones in the 5 front parking bays, 4 disabled parking spaces (a conspicuous mobility pass is required if used), and over 250 parking spaces available. Additionally, you will find 6 EV chargers available to use at the front of car park A.
Car Park B is located to the right of the airport terminal, directly across from the rental car park. With only a 3-5 minute walk away, this airport parking at Queenstown hosts 77 parking bays and is great for anyone looking for budget parking or long term parking Queenstown.
Hours: 24/7
Service: Walking Distance
Distance to Airport: 3-5 minute walk
Height Restrictions: N/A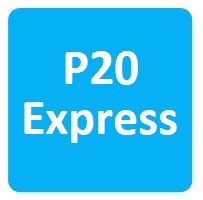 P20 Express Parking
If you require a little more time for your goodbyes, then the P20 express pick-up and drop-off parking spaces are a perfect choice for you. Located in the first few bays signposted 'P20' of Terminal car park A, you can find Queenstown Airport free parking here if you plan to stay under 20 minutes. Upon arrival, acquire a ticket at the entry gate and hold tight to it, as you will need to insert it at the exit gate upon leaving the car park. Don't worry, you won't be charged if your stay was under 20 minutes!
If you do find yourself needing longer than 20 minutes, please move your car to a non-P20 parking space and pay with your ticket at the exit gate upon leaving.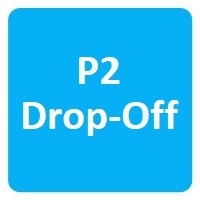 P2 Drop-Off Zone
The P2 Drop-Off zone is conveniently located directly outside the departures terminal, and is specifically for those who just want to quickly drop off passengers right at the terminal. This option is quick and easy for anyone looking for a hassle-free drop-off at Queenstown Airport.
Car Parks with Valet Service
Unfortunately, there is no valet parking at Queenstown Airport at present.
About Queenstown Coast Airport
Queenstown Airport (ZQN) is located in Frankton, Otago, New Zealand, and serves the resort town of Queenstown. The airport is 8 km (5.0 mi) from the Queenstown CBD. The airport handled 2.25 million passengers as of 2018 and is now the 4th busiest airport in the country by number of passenger numbers and services four commercial airlines, commercial general aviation, and private jets.The airport consists of two runways and has one terminal building with nine gates.
Queenstown Airport was first licensed to operate in 1935, and only started its regular operation of flights in the 1950s. International flights have rapidly increased over recent years and as a result of the demand, year-round services now operate to Sydney, Melbourne, Brisbane and the Gold Coast. Queenstown Airport is heavily used for tourist 'flightseeing', especially to Milford Sound and Aoraki Mount Cook, and is New Zealand's busiest helicopter port.
Which Airlines Service Queenstown Airport?
We offer you a list of airlines at Queenstown Airport. The main airlines at the airport are:
Virgin Australia
Qantas
Jetstar Airways
Air New Zealand
Air Milford
Glenorchy Air
Discover Queenstown Airport Parking with Flyparks
If you're searching for Airport Parking Queenstown - you don't need to look any further than Flyparks. Our fast, easy-to-use online comparison tool lets you search, review, book, and ultimately save on parking at all major airports in Australia and New Zealand. We've helped thousands of people find the best deal on airport car parking, and assisted many more by providing free, in depth and up-to-date information on a wide range of parking options. Instead of shopping around to find the best deal, you can search, compare, and book car parking Queenstown Airport through Flyparks in as little as two minutes. We don't add on any additional fees or charges. The Queenstown airport parking fees we display on our site are exactly the same as those charged by the car park providers themselves, ensuring that you're offered the lowest rates possible.