Parking at Cairns Airport within Walking Distance
You'll find the T1 Long Term Car Park, the T2 Long Term Car Park, and Premium Covered Parking close to the main airport building. Not only are these car parks convenient in terms of location, but affordably priced for short and long stays. For more information about each individual car park, arrival and return details, see below.
Arrival: On the day of departure, simply drive to the address of the chosen car park. Upon turning onto Mick Borzi Drive from Airport Avenue, there will be the T2 Covered, Uncovered and Pick-up/Drop-off car parks on your left. If you proceed forward and pass these car parks, turn on to Beaufort Street to find the T1 International Budget Car Park on your right.
If you did not pre-book your spot, drive to the car park gate and present your credit card at the card reader at the entry barrier – American Express, MasterCard, and Visa are the acceptable forms of payment. Make sure you scan the same card you used upon entry as you do upon exit.
If you prefer to pay in cash and receive a ticket as proof of payment, you may do so at one of the two automatic payment stations located at the T2 Covered Car Park Kiosk (located at the undercover passenger walkway), or at the station that is next to the T1 International Taxi Rank. When you receive a ticket for your purchase, keep it somewhere safe, because if you lose it whilst away, you will incur a $50.00 lost ticket fee upon return. If you find yourself with any questions or trouble with your payment method or entry/exit of the car park, don't worry - just press on the intercom to receive help from an agent!
Return: On the day of return, after landing, walk to the car park, grab your car, and tap your credit card again at the payment machine or insert your ticket as you exit the parking gate. You can receive a receipt upon your exit.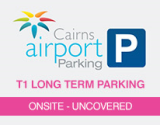 T1 Long Term / Budget Car Park ($144.00 for 1 Week)
*Currently Unavailable to Book on Flyparks
A sound choice for international travellers, T1 Long Term Parking is an open-air car park located right next to the airport building, and is owned and maintained by Cairns Airport. This Car Park is great for hellos and goodbyes as your first 10 minutes are free when dropping-off or picking-up passengers. Currently, they are offering a 'Two Week Treat' deal that allows you to pay $88 when you book your reservation online, for a minimum of 14 days. Don't miss out on one of the best options for parking at Cairns Airport.
Hours: 24/7
Service: Walking Distance
Distance to Airport: 3 minute walk to T1, 5-10 minute walk to T2
Height Restrictions: 4 metres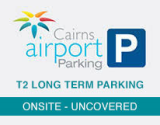 T2 Long Term Car Park - Uncovered ($156.00 for 1 Week)
*Currently Unavailable to Book on Flyparks
Situated next door to the Domestic Terminal, T2 Long Term Car Park - Uncovered is a secure, open-air car park that allows you to keep your keys. If you wish to be within walking distance of Cairns domestic terminal, this is your stop! Right now you can receive a Cairns airport parking discount when you book online for a minimum of 7 days, leaving you with a low cost of $77. Ideal for those travelling domestically, parking here will leave you near your gate while enjoying great rates. To make circumstances more convenient, you can park in this car park for 10 minutes, free of charge, whilst saying goodbye to your passengers.
Hours: 24/7
Service: Walking Distance
Distance to Airport: 1 - 2 min walk to T2
Height Restrictions: 4 metres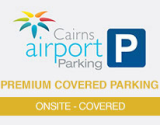 T2 Premium Car Park - Covered ($224.00 for 1 Week)
*Currently Unavailable to Book on Flyparks
The most secure car parking option at Cairns Airport, T2 Premium Car Park - Covered is an undercover car park, with 24/7 CCTV and security patrols. It is a great choice for those who want to utilize the closest car park to T2 terminals or are looking for Cairns Airport short-term parking. Ideal for business travellers and those who prioritize convenience, right now you can book a covered parking spot for $67 when booking online for a minimum of 3 days - talk about affordable Cairns Airport parking fees! With each parking spot 20% larger than alternative car park bays, you can rest assured your car has plenty of room away from other vehicles, leaving no chances for accidental scratches or bumps whilst away.
Hours: 24/7
Service: Walking Distance
Distance to Airport: 1 - 2 min walk to T2 & 5 min walk to T1
Height Restrictions: 4 metres
Car Parks with Valet Service
Unfortunately, there is no valet parking at Cairns Airport at present.
Long Term Parking at Cairns Airport
Long Term Parking at Cairns is not difficult to come by. In fact, the T2 Long Term Car Park is perfect for travellers who will be gone for a few weeks. There is a 7-day minimum stay required to utilise this car park, so if you don't plan to be gone that long, opt for the Budget Parking or Premium Covered Parking for shorter stays. If you do plan to be gone for a week or more, remember, you can receive cheaper Cairns Airport long term parking fees when you book a spot for 7 days, only being charged $77.00. Be sure to book your spot online for Cairns Airport Parking long term at their official airport page, as they do not accept drive-up bookings and are not available to book on Flyparks at present. To ensure convenience, you can book your spot up to two hours in advance, and modify your booking up until 12 am the night before your booking begins.
Pick-Up / Drop-Off Parking at Cairns Airport
If you want Cairns Airport parking for only 10–30 minutes to say farewell to your loved ones, there are designated areas to do so, for free! To pick up or drop off passengers, you can utilize T1 and T2 terminals, for 10 minutes, free of charge. If you want a little bit more time but still prefer to not spend while waiting, opt for the Standby Zone, located off of Gypsy Moth Drive. Here you can park for 30 minutes, free of charge, as you wait for your passengers. Be sure to remain in your vehicle while at both the Standby Zone and terminals T1 / T2 - any vehicle left unattended is subject to tow.
*There are designated accessible parking points for those picking up or dropping off passengers within T1 & T2. To occupy the space, be sure to display your disabled parking permit.
Discover Cairns Airport Parking Deals with Flyparks
You can easily explore Cairns Airport long term parking fees with Flyparks. Securing a parking spot is straightforward and easy, and you'll receive your online booking confirmation in a matter of seconds. All you need to do is enter your dates into our handy search tool, and then select the car park which suits you best. You can filter the search results by price, rating, and proximity, and then make a secure online payment via credit card or PayPal. The entire process takes less than two minutes, and you can download your Flyparks booking confirmation as soon as your payment is confirmed.
Should you have any questions, or later need to make amendments to your booking, you can get in touch with our friendly customer care team. They are available Monday through Friday to help with adjusting arrival and departure dates and times, cancellations, changing number plate details, and providing advice whenever possible so that your journey gets off to a smooth start.