Car Parks with Shuttle Service
If you'd like to prepay for your parking Ballina Airport online in order to secure a space, or if you'd like guaranteed undercover parking, you might want to consider an off-site car park. We recommend this option for budget conscious travellers who need to park their vehicle for stays of one day or more.
Arrival: On the day of departure, simply drive to the address of the chosen car park. You can park your car here, and you will then be taken to the airport as quickly as possible in one of the shuttle buses from the parking lot.
Return: On the day of return, after landing, contact the car park by phone, then a shuttle bus will be driven to the airport to pick you up and take you back to the car park.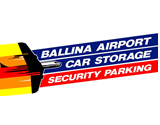 Ballina Airport Car Storage
A purpose built undercover facility, that will protect your vehicle from the elements while you're away. Ballina Airport Car Storage offers great rates for long-term parking and is located only 100 metres away from the airport itself. Open 24/7, the car park also offers a range of car washing and repair services, so you can take advantage of your car's downtime and save yourself the hassle of hiring a rental.
Car Parks within Walking Distance
There are two options to choose between for car parks within walking distance: General Parking and Premium Parking. Both are only a short walk from the terminal and charge the same rates. Two hours will cost you $2.00, a day is priced at $8.00, and overnight parking is $14.00.
You cannot book your parking online at either car park and must pay at the parking machine before exiting. The machine accepts credit cards and coins, but not notes. There's a change machine near the front entry of the terminal building.
Arrival: You simply drive to the car park. On arrival, enter your personal entry code and the barrier will open. You will receive this entry code as an attachment to your reservation confirmation.
Return: You walk back to the car park, get in your car, and leave the car park using the same personal code.
General Parking
General parking car park is one of the official car parks at Ballina Byron Airport and is just a short walk to the terminal. It's worth bearing in mind that only the General parking lot is fenced, and the main gate automatically closes and locks at 9.00pm, reopening at 5.00am the next morning. This car park is a great option for Ballina long term parking.
Premium Parking
The premium car park is the other official Byron Bay car park and is an even shorter walk to the terminals. In addition, there are a few disabled parking spaces that are available in the Premium car park and are right in front of the main entry.
Pick-Up & Drop-Off Zone
The pick-up and drop-off zone is an area located directly in front of the terminals and is perfect for dropping off your loved ones.
Car Parks with Valet Service
Unfortunately, there is no valet parking at Ballina Byron Airport at present.